2012-07-13 @ Bandar Sultan Suleiman, Klang

A total of 34 MKPC staff including the Korean Expatriates have participated in MKPC's 3rd Charity Program in 2012 @ Bandar Sultan Suleiman together with more than 80 Senior Citizens who live only 4km to 5km away from MKPC's 2nd plant in Bandar Sultan Suleiman, Port Klang.
This time, we distributed 90 Raya Hampers to the old folks in this area and spent happy moments to know each other more with the local community.
By using the Fund from the Corporate Contribution Group of HQ, we have contributed 1 unit of air-conditioner and 90 Raya Hampers. We also plan to support the local community especially the Senior Citizens every year mostly during the Raya festive season.
---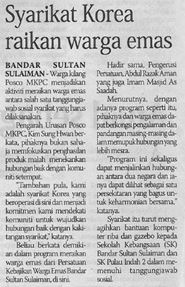 Published on 19 July @ Sinar Harian
Contents of the article:-
Korean Corporate has celebrated with the Senior Citizens
The members of POSCO MKPC has made celebrating with the Senior Citizens are one of the Corporate Social Responsibilities which needs to be emphasized.
Mr. Kim Sung Hwan, the Managing Director of POSCO-MKPC mentioned that POSCO is not here only to manufacture products but also to create good rapport with the local community consistently.
"Moreover, we are Korean based organization which operating here and it is our commitment to get closer with the local community to build up good relationship together with our employees," he said.